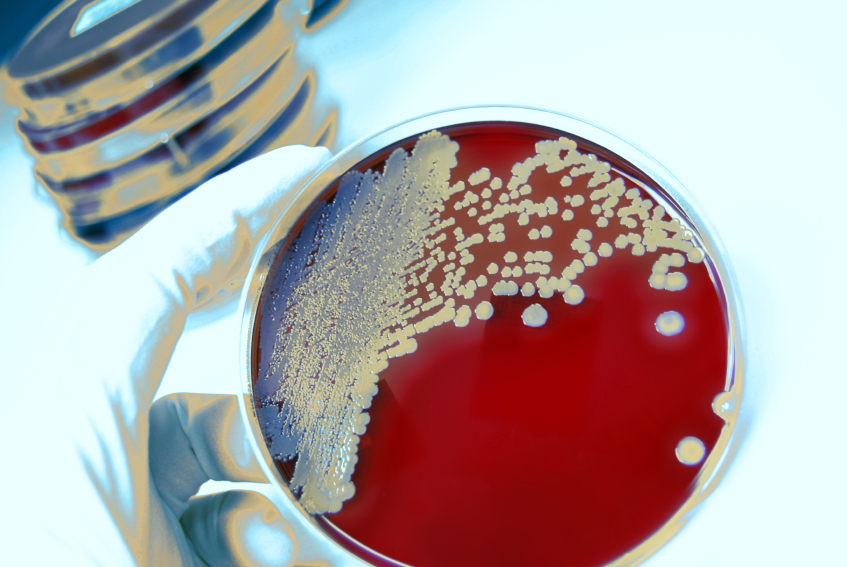 Bacteria are the plural of bacterium, which are microscopic one-celled organisms. They are found everywhere and can be harmful, as in infections; or they can be beneficial, as in fermentation or decomposition. Five types of bacteria are: Coccus, Bacillus, Spirillum, Rickettsia, and Mycoplasma.
Bacteria Examples
Coccus
Here are examples of bacteria that are spherical shaped (Coccus):
Staph aureus
S. epidermidis
S. saphrophyticus
S. haemolyticus
S. hominis
S. capitis
S. schleiferi
S. warneri
S. lugdenenis
Strep pyrogenes (gr. A)
S. agalactiae (gr. B)
E. faecalis
E. faecium
S. pneumoniae
S. mutans group
S. salivarus group
S. sanguis group
S. mitis group
S. angiosus group
A. adiacens
S. milleri
S. bovis
N. gonorrhea
N. meningitides
Moraxella catarrhalis
Bacillus
Examples of bacteria that are rod shaped (Bacillus):
C. diptheriae
C. jeikenium
C. urealyticum
Lactobacillus sp.
Bacillus anthracis
B. cereus
Listeria monocytogenes
Erisipelothrix rhusiopathiae
Arcanobacterium bemolyticum
Escherichia coli
Klebsiella pneumoniae
Proteus spp.
Morganella
Providencia
C. freundii
C. koseri
Enterobacter cloacae
E. aerogenes
S. marcecescens
Vibrio cholera
V. parahaemolyticus
V. vulificans
Aeromonas hydrophila
Plesiomonas shigelloides
Stenotrophomonas maltophilia
Spirillum
Here are examples of bacteria that are spiral shaped and gram-negative (Spirillum):
Treponema pallidum
Treponema carateum
Treponema denticola
Borrelia burgdorferi
Borrelia afzelii
Borrelia hermsii
Borrelia duttoni
Borrelia parkeri
Borrelia recurrentis
Leptospira interrogans
Spirillum minus
Chlamydophila psittaci
Chlamydophila pneumoniae
Chlamydia trachomatis
Bacteroides fragilis
Bacteroides forsythus
Capnocytophaga canimorsus
Porphyromonas gingivalis
Prevotella intermedia
Fusobacterium necrophorum
Fusobacterium nucleatum
Fusobacterium polymorphum
Streptobacillus moniliformis
Rickettsia
Here are examples of bacteria that behave like viruses and can't live outside living cells (Rickettsia):
Rickettsia rickettsii
Rickettsia akari
Rickettsia conorii
Rickettsia sibirica
Rickettsia australis
Rickettsia felis
Rickettsia japonica
Rickettsia africae
Rickettsia hoogstraalii
Rickettsia prowazekii
Rickettsia typhi
Mycoplasma
Here are examples of bacteria that do not have a cell wall and may be rod shaped or spherical (Mycoplasma):
M. buccale
M. faucium
M. fermentans
M. gallisepticum
M. genitalium
M. haemofelis
M. hominis
M. hyopneumoniae
M. hyorhinis
M. incognitus
M. lipophilum
M. ovipneumoniae
M. penetrans
M. pirum
M. pneumoniae
M. salivarium
Bacteria in Fermentation
Here are examples of bacteria used in fermentation:
Arthrobacter nicotianae
Acetobacter aceti
Arthrobacter arilaitensis
Bacillus cereus
Bacillus coagulans
Bacillus licheniformis
Bacillus pumilus
Bacillus sphaericus
Bacillus stearothermophilus
Bacillus subtilis
Bifidobacterium adolescentis
Brachybacterium tyrofermentans
Brevibacterium linens
Carnobacterium divergens
Corynebacterium flavescens
Enterococcus faecium
Gluconacetobacter europaeus
Gluconacetobacter johannae
Gluconobacter oxydans
Hafnia alvei
Halomonas elongata
Kocuria rhizophila
Lactobacillus acidifarinae
Lactobacillus jensenii
Lactococcus lactis
Lactobacillus yamanashiensis
Leuconostoc citreum
Macrococcus caseolyticus
Microbacterium foliorum
Micrococcus lylae
Oenococcus oeni
Pediococcus acidilactici
Propionibacterium acidipropionici
Proteus vulgaris
Pseudomonas fluorescens
Psychrobacter celer
Staphylococcus condimenti
Streptococcus thermophilus
Streptomyces griseus
Tetragenococcus halophilus
Weissella cibaria
Weissella koreensis
Zymomonas mobilis
Bacterial Infections
Here are examples of bacterial infections with the bacteria that cause them:
Botulism – Clostridium botulinum
Diphtheria – Corynebacterium diphtheriae
Gonorrhea – Neisseria gonorrhoeae
Legionnaire's Disease – Legionella pneumophila
Leprosy – Mycobacterium leprae
Leptospirosis – Leptospira interrogans
Listeriosis – Listeria monocytogenes
Lyme disease – Borrelia burgdorferi
Mycoplasma pneumonia – Mycoplasma pneumoniae
Pseudomembranous colitis – Clostridium difficile
Pulmonary anthrax – Bacillus anthracis
Rocky Mountain spotted fever – Rickettsia rickettsii
Salmonellosis – Salmonella typhimurium
Tetanus – Clostridium tetani
Tuberculosis – Mycobacterium tuberculosis
Tularemia – Francisella tularensis
Typhoid fever – Salmonella typhi
Whooping cough – Bordetella pertussis
Now you have seen lots of different examples of bacteria and some of the things that bacteria can do.