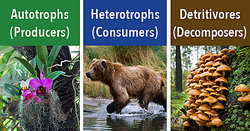 Biotic factors are the living components of an ecosystem. They are sorted into three groups: producers or autotrophs, consumers or heterotrophs, and decomposers or detritivores.
Producers
Producers, also called autotrophs, convert energy into food, some using photosynthesis. Here are examples of producers:
Air plants
Apricot mallow
Arctic azaleas
Arctic moss
Arctic poppy
Arctic willow
Avocado
Ball moss
Bamboo
Banana trees
Bear berry
Bees – yellow jacket, wasp, honey, carpenter, hornets
Big galleta
Blue Dicks
Bromeliads
Bush muhly
Caribou moss
Cassava
Cotton grass
Cyanobacteria
Desert needle
Eel grass
Epiphyte
Ferns
Fluff grass
Fremont's pin cushion
Fruit trees – lemon, orange, apple, etc
Green algae
Green sulfur bacteria
Hay
Indian rice grass
Joshua trees
Juniper
Lichens
Living rocks – Lithops
Marsh grass
Orchids
Owl's clover
Pasque flower
Periwinkle
Phytoplankton
Pines
Pinyon pines
Purple sulfur bacteria
Red algae
Red brome
Red maids
Resurrection fern
Rubber trees
Shrubs
Seaweeds
Sedges
The corpse lily
Turf algae
Turfed saxifrage
Venus fly traps
Vicia cracca
Vines
White fir
Zooxanthellae
Consumers
Consumers, also called heterotrophs, rely upon producers for food. Here are examples of consumers:
Acacia ant
American alligator
Anteater
Arctic bumble bees
Arctic ground squirrel
Arctic hare
Arctic peregrine falcon
Arctic shrews
Arctic wolf
Badger
Barracuda
Bass
Bats – most
Bears – black, American, Asian, grizzly, Kodiak,sun, Polar
Bighorn sheep
Bobcats
Cactus wrens
Canada goose
Caribou
Catfish
Cattle – zebu, taurine, sanga, dwarf lulu, chianina, brown
Swiss Cheetah
Chimpanzee
Chuckwalla
Crab
Colobus monkey
Common kingsnake
Cougar
Coyote
Crocodile
Dall sheep
Desert tortoise
Dingo
Dolphins – Chinese River, Amazon River, Baiji, Ganges and Indus River
Dunlin flavus
Eagles – bald, harpy, golden, crested, white tailed
Electric rays
Elephants
Fox – Arctic, red, crab eating, fennec
Giant Pacific octopus
Goatfish
Golden lion
Grass shrimp
Green crab
Green sea turtle
Groupers – white, black, giant, Nassau Harlequin duck
Harp seals
Herring gull
Humans
Humming birds
Jackrabbits
Jaguar
Krill
Lemmings
Lemurs
Leopards – clouded, snow, sunda clouded
Liver tape worm
Lobster
Loris
Lynx
Marlin
Marmosets
Minnow
Mojave rattlesnake
Moray eels
Mosquitos
Mountain lions
Mule deer
Musk oxen
Mussules
Opossum
Otter
Owls – cape eagle, great horned, tawny fish
Pacific tree frog
Parrotfish
Pronuba moth
Pygmy
Ravens
Red-shanked douc
Langur
Red-spotted toad
Red-tailed hawks
Roadrunners
Sea bass
Seals – leopard, baikal,
Mediterranean monk
Sea lion
Sea urchins
Scorpions
Sharks – great white, tiger, angel, basking, blue, hammerhead
Shrimp
Sloth
Snakes – boa constrictor, rattlesnakes, pythons, anacondas, bushmaster
Snappers
Snapping turtle
Spiders
Sponges – yellow, vase, tube, red tree, common sea squirt, painted tunicate
Sturgeon
Sumatran rhinoceros
Surgeonfish
Swordfish
Tarantula
Tarantula hawk
Tigers
Toco toucan
Trout
Tuna
Vampire bats
Walrus wasps
Whales – orca, sperm, pilot, right, blue, humpback
Wolves – gray, Himalayan, maned, red, Indian
Wood bison
Wrasses – butterflyfish, filefish, triggerfish, damselfish
Zooplankton – copepods or urchins
Decomposers
Decomposers, also called detritivores, break down chemicals from consumers and producers into simpler forms that are used again. Here are examples of decomposers:
Bacteria – streptomyces, penicillum, bacillus, aspergillus
Beach flies
Clams
Cockroaches
Crabs
Earthworms
Flat worms
Flies
Freshwater shrimp
Fungi – mushrooms
Lobsters
Macrofauna
Mesofauna
Microbes
Microfauna
Protozoans
Shelf fungus
Slugs
Snails
Termites
Wasps
By reviewing these examples of biotic factors you can see that they are varied in type and function.